We're having a "business vacation" in San Francisco currently--here for the annual ASOR meetings (American Schools of Oriental Research...aka, the conference for archaeology geeks). It's always a fun event (it's only the third one I've been able to attend) because we get to reconnect with a bunch of friends from so many different stages of life and from so many different places. In that sense, it's almost like a reunion of memories past. And it's a gold mine for professional networking for Owen, as well.
We just rolled into town last night and settled into our budget hotel, and today the kids and I went on a mission to explore our immediate neighborhood by foot. Jack is adorable: I had told him excitedly, "Today we get to go explore the neighborhood!" He matched my enthusiasm with wide-eyed wonder, "Mr.
Roger's
neighborhood?!" (I think he's only seen the show once, ever.) I felt terrible letting him down, but then again, there
were
trolleys! I reminisced about our Amman days as I puffed up 45 degree inclines with one child strapped to me and the other pushed in front, and it felt good to exert myself again in the warm sunshine.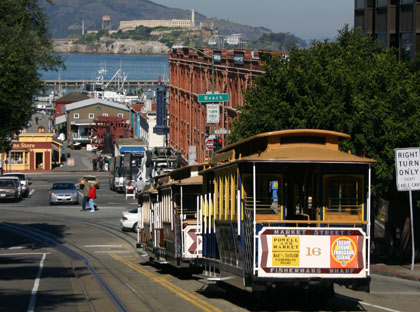 Around dinnertime, we drove downtown to meet up with Owen and some friends, and of course had trouble finding reasonable parking. I was determined to find free street parking! I was just about to give up, when I happened across an empty street boasting a plethora of free parking spaces! I was so excited that I didn't realize until I'd parked
why
this section of street was not terribly popular: the entirety of it was heavily populated by shady-looking homeless people and (I'm quite certain) drug dealers. It was
very
shady. I only felt slightly better that there was a Youth With A Mission located there...albeit behind iron gates and bars. I was so committed to my free parking plan, however, that we stayed.
Safita is such a lovely, sweet, happy, friendly child, always bursting with smiles and eager to interact with other people. I am told constantly by people that she is the friendliest baby they've ever seen. So as I toted my kids down Sketchy Street, my Little Miss Sunshine was nearly leaping out of my arms trying to say hello to every single vagabond we passed. She didn't notice their tattered clothes, the dark circles under their eyes, their greasy hair...It took a good deal of effort to hold on to her!
And it was another one of those frequent backwards moments where my child taught
me
a lesson. Oh, to be like a child and not be so quick to pre-judge people or qualify who should be deserving of our kindness. Safita reminded me that people are more than the situations they find themselves in, they are more than the mistakes they've made, and they all deserve kindness and good will. I am inspired to have more "x-ray" vision like a child: to see past the outer baggage into the valuable soul of each person I meet.